A Nikuzuki Specialty: Premium Salted Beef Tongue
We only serve choice cuts of the best quality beef tongue. We season our beef tongue purely with salt and pepper so that guests can truly savor the flavor of the ingredient.
Kuroge Wagyu Yukhoe made with the finest quality meat
Nikuzuki has obtained an official permit from the public health department to offer safe top quality Yukhoe (seasoned raw beef). We top our Yukhoe with egg yolks from the premium brand "Ryu no Tamago" from Oita prefecture.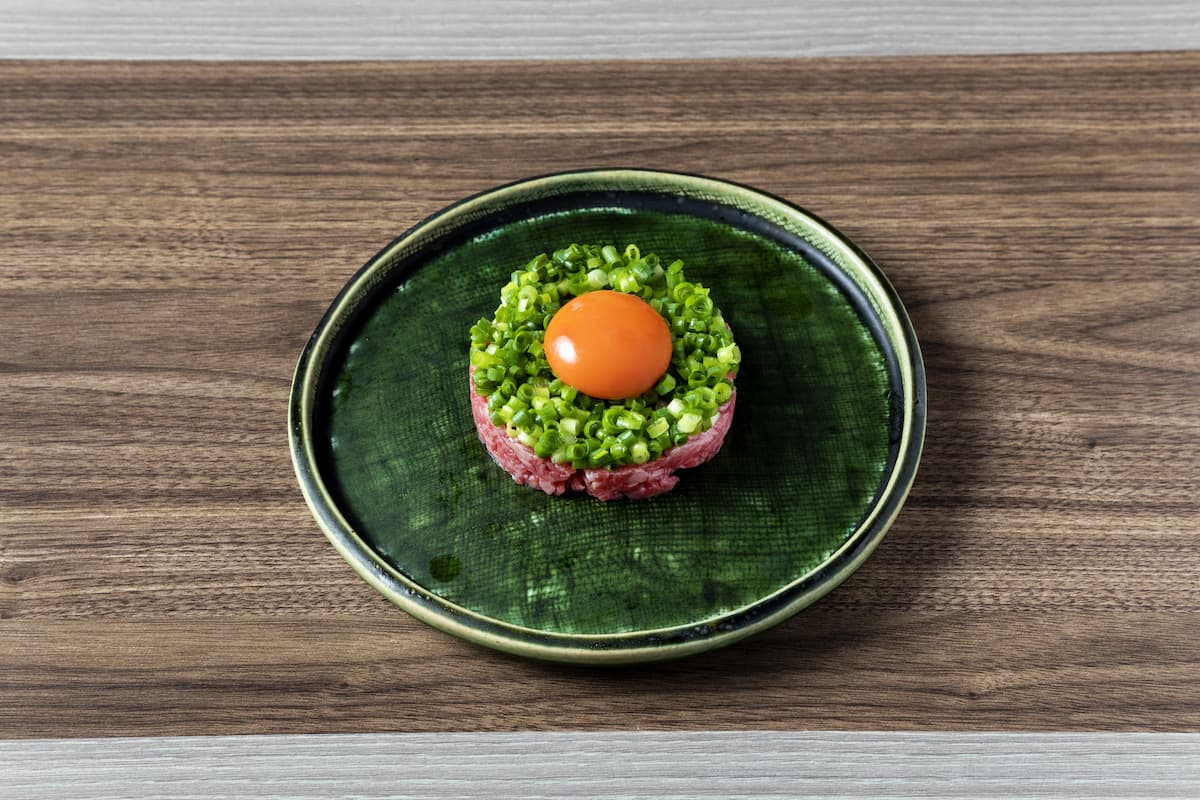 Premium Salted Liver, limited to four to five servings daily
We purchase fresh liver everyday and carefully select the best parts to create our premium salted liver. We only serve four to five servings daily, so please make sure to order it ahead of time.
16,000 Yen Course
Appetizer (Namul, Kimchi, etc.)
Kotchori Salad
Caviar, sea urchin and Yukhoe Ikura Chirashi sushi
Salted dish: Thick-sliced tongue, black Skirt Steak
Tenderloin and the premium brand egg "Ryu no Tamago"
2 kinds of sauce
Chilled noodle
Shaved ice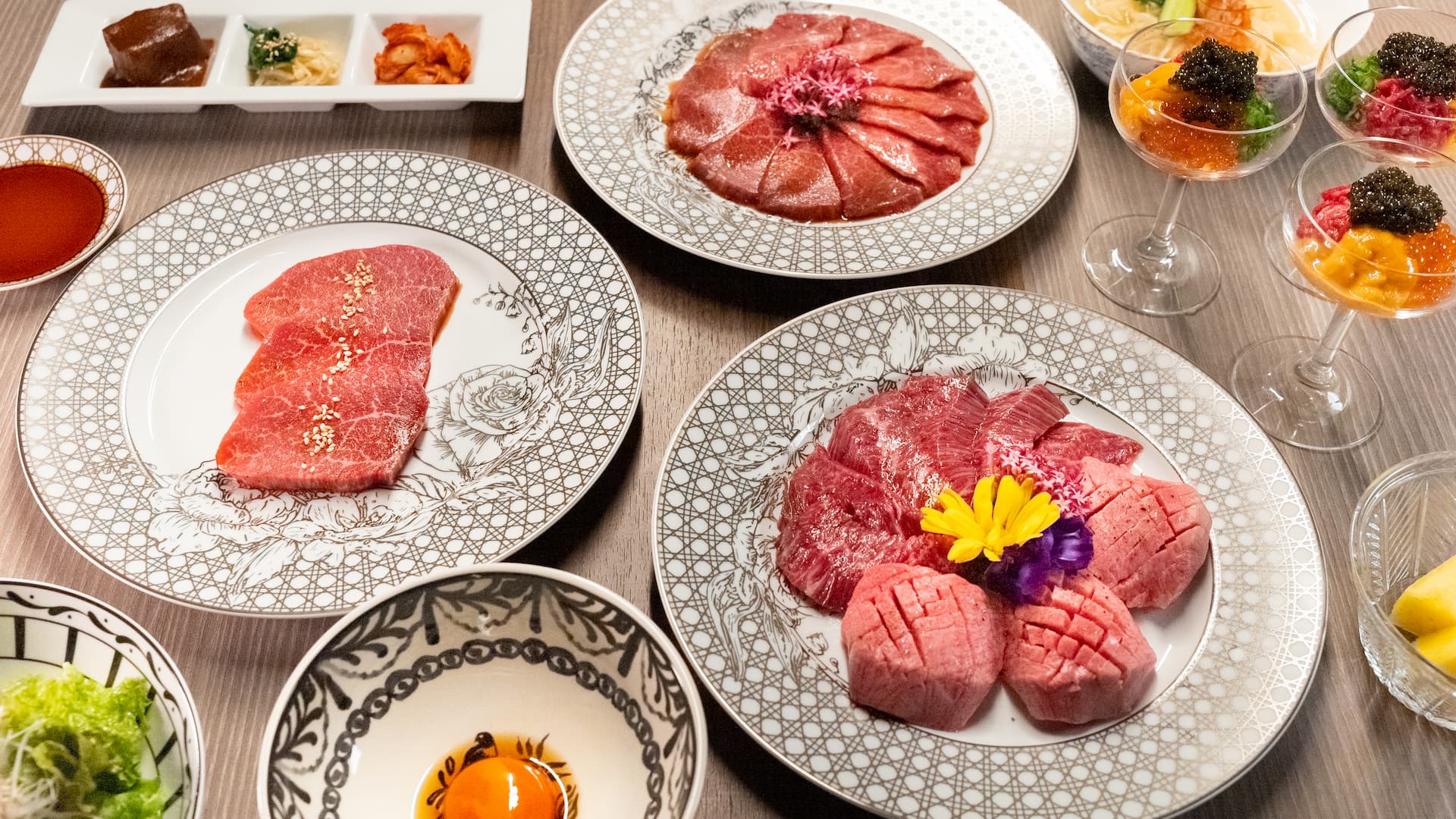 13,000 Yen Course
Appetizer (Namul, Kimchi, etc.)
Kotchori Salad
Yukhoe, sea urchin and Ikura Chirashi sushi
Salted dish: Thick-sliced beef tongue, black skirt Steak
Tenderloin and the premium brand egg "Ryu no Tamago"
2 kinds of sauce
Chilled noodle
Shaved ice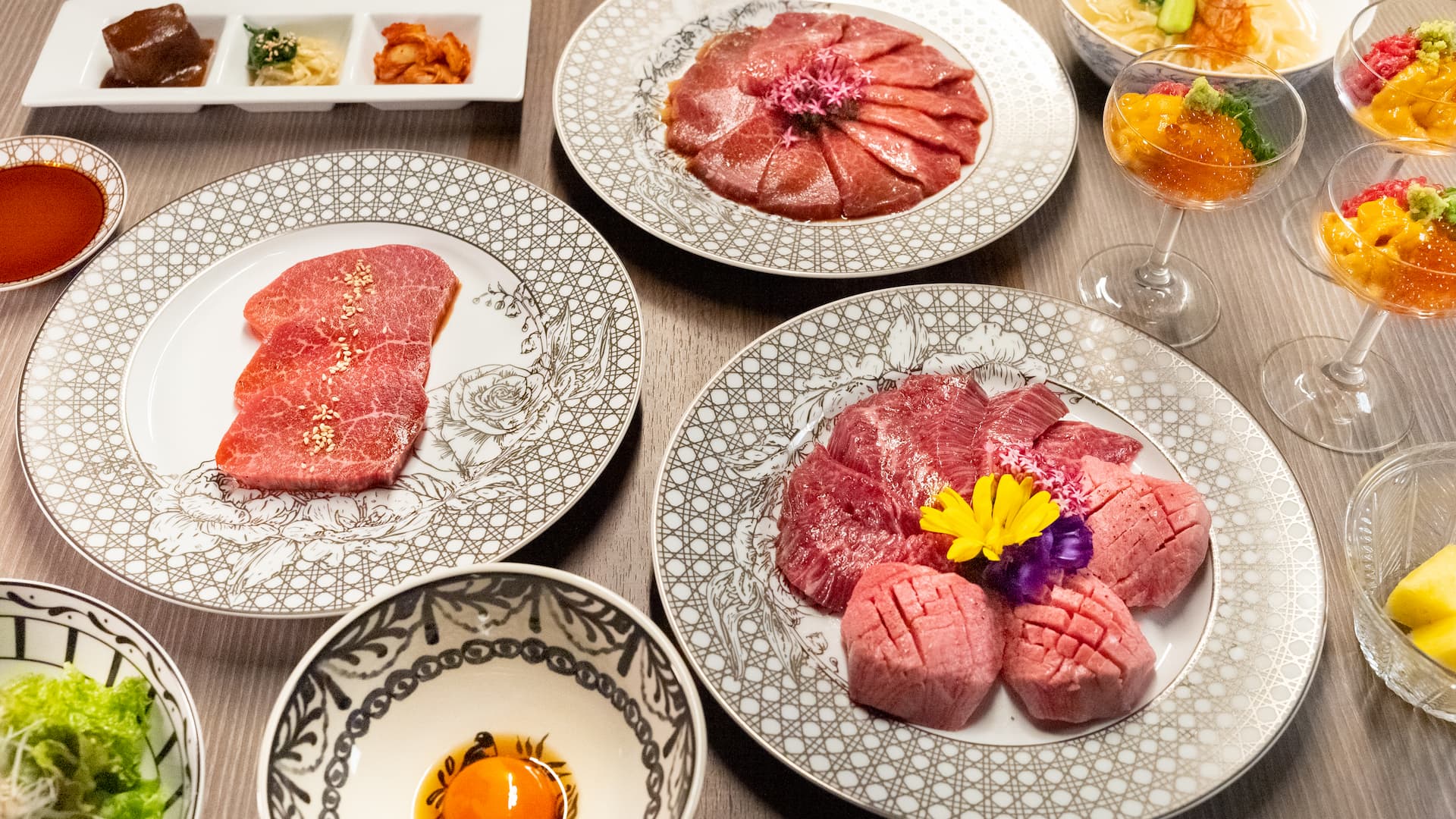 10,000 Yen Course
Appetizer (Namul, Kimchi, etc.)
Kotchori Salad
rolled beef tenderloin with leek
Salted dish: Special beef tongueX2, skirt SteakX2
Special loin and oyster blade with the premium brand egg "Ryu no Tamago"
2kinds of sauced dish
Chilled noodle
Shaved ice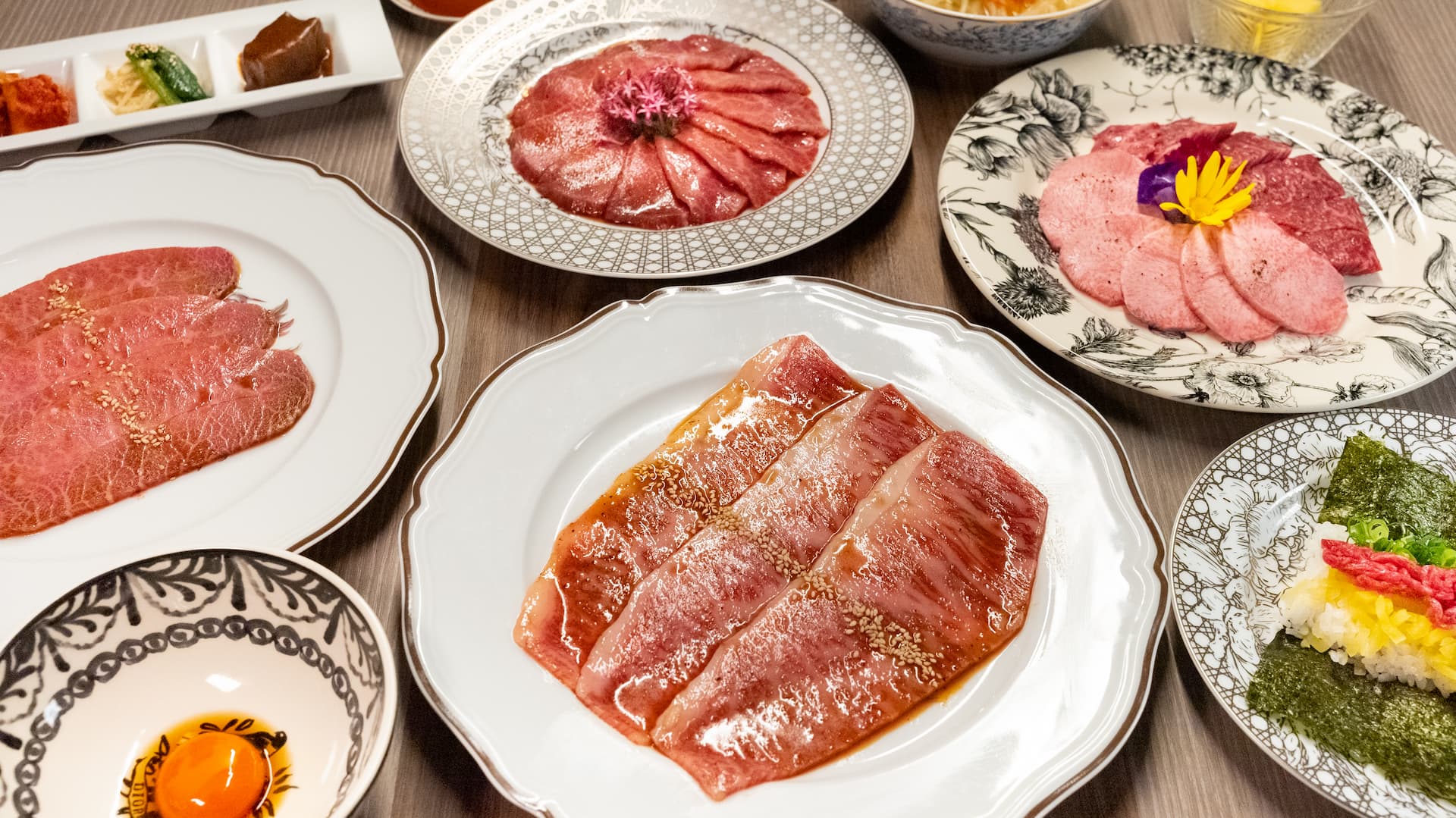 7,000 Yen Course
Appetizer (Namul, Kimchi, etc.)
Kotchori Salad
2 pieces of meat sushi
Salted dish: Beef tongue, Skirt Steak
Premium oyster blade with the premium brand egg "Ryu no Tamago"
2kinds of sauced dish
Chilled noodle
Dessert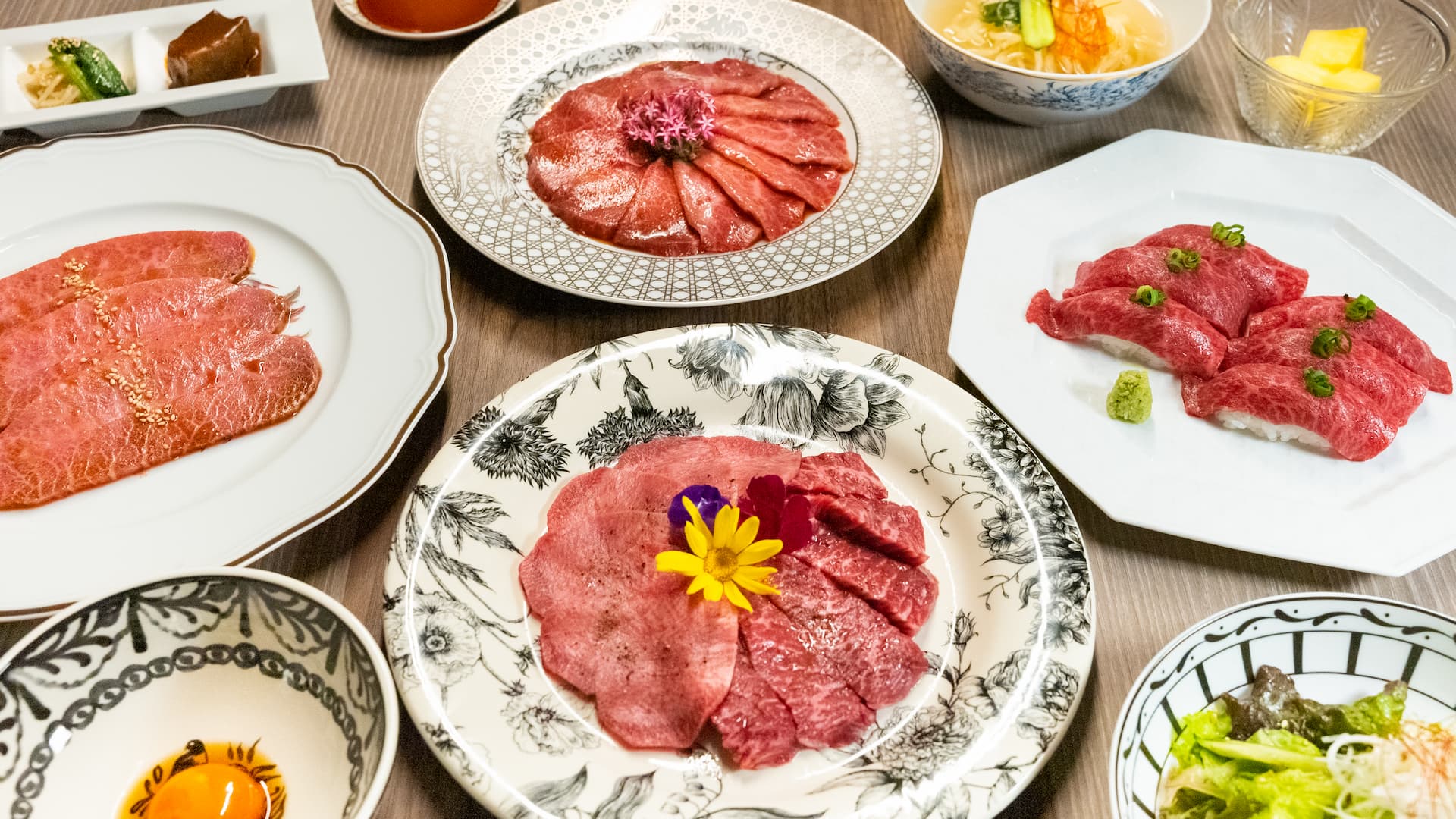 Grilled Dishes
Premium Salted Beef Tongue

¥3,200

Salted Beef Tongue (Tendon)

¥980

Premium Salted Liver

¥2,980

Premium Salted Heart

¥1,480

Top-quality Cow Tripe

¥1,380
À la Carte Dishes
Gomtang (Korean beef bone soup)

¥1,100

Gomtang Gukbap (Korean beef bone soup with rice or udon noodle)

¥1,200

Yukgaejang (Korean spicy beef stew)

¥1,100

Yukgaejang Gukbap (Korean spicy beef stew with rice or udon noodle)

¥1,200

Bugeoguk (Dried pollack soup)

¥1,000

Bugeoguk Gukbap (Dried pollack soup with rice or udon noodle)

¥1,100

Vegetable soup with rice or udon noodle

¥1,200

Morioka Reimen (Chilled noodles)

¥1,000

Yukhoe Bibimbap (Mixed rice with vegetables topped with seasoned raw beef)

¥1,800

Dolsot Bibimbap (Mixed rice with meat, vegetables, and an egg cooked in a stone pot)

¥1,200

Fried rice with cow tripe cooked in a stone pot

¥1,800
Rice(Small serving)

¥250

Rice(Medium serving)

¥300

Rice(Large serving)

¥350
Appetizers and Raw Dishes
Kuroge Wagyu Yuksashimi (served with sauce)

¥2,300

Two servings of meat sushi made with Kuroge Wagyu beef

¥780

Senmai Sashimi (Beef omasum sashimi)

¥1,000

Assortment of kimchi

¥1,000

Assortment of namul (seasoned vegetable side dishes)

¥1,000

Chanja (Spicy cod innards)

¥680

Kotchori Salad (White)

¥850
Dessert
Shaved ice *Please ask our staff
ランチにもホームパーティーにも最適!ざぶとんの味をご自宅まで!!